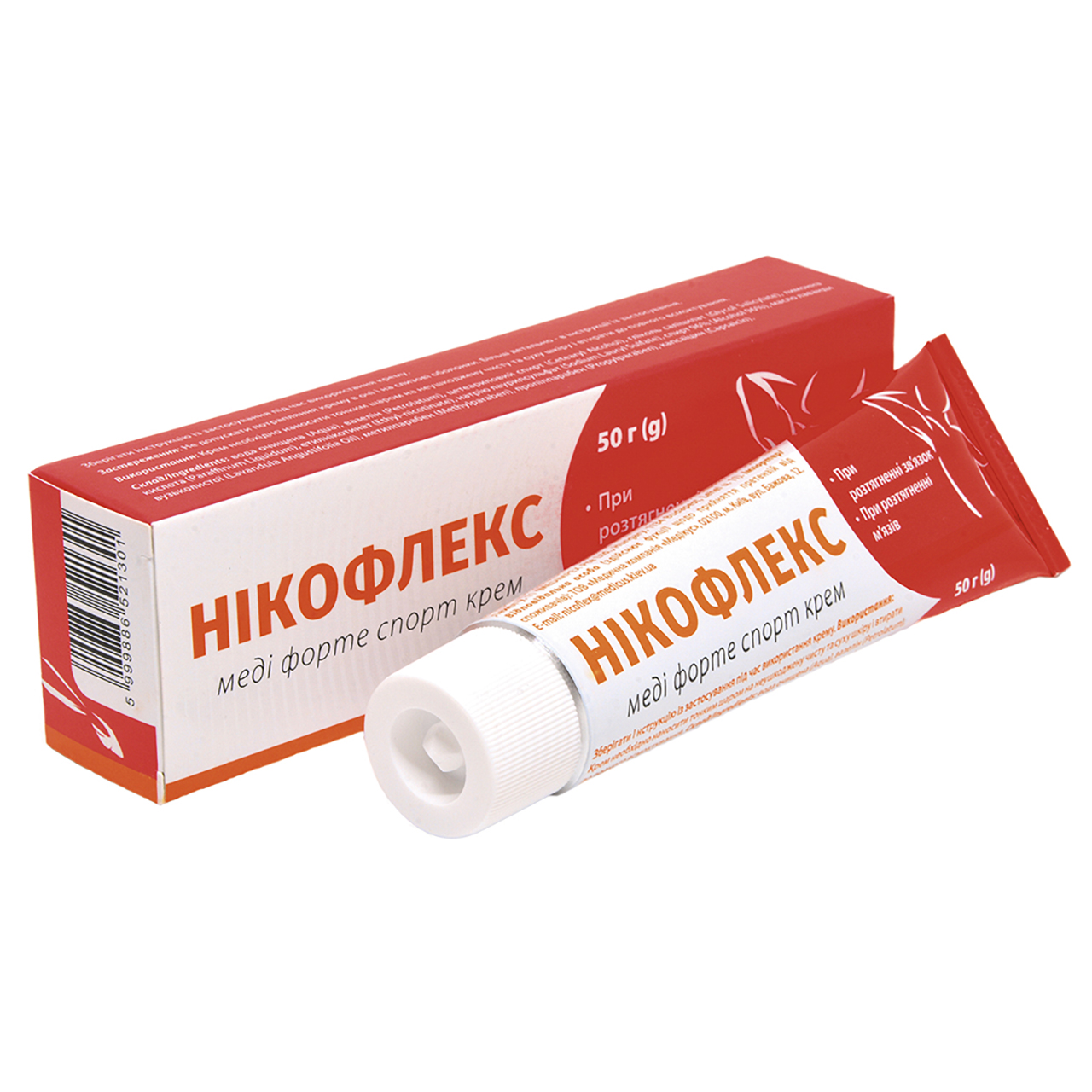 Nicoflex medi forte sport cream - №1 for sport and leisure!
Analgesic cream for bruises and sprains. It promotes tissue repair, fights inflammation; warming effect helps to prepare muscles and joints for loading.

Sport, go hiking, dance or work in the garden?
Take Nicoflex medi forte sport cream with you!
Six main features
Effective
Quickly relieves pain and gives relief
Economical
50 g of cream lasts for 1,5-2 months of intensive usage
Convenient to use
2 times a day, does not need wrapping
Long-acting
Warms up to 4 hours
Neat
Does not stain clothes, easy to wash off
Compact
It is easy to place it in a purse or a backpack
Three effects in one
Anti-inflammatory effect
Hydroxyethyl salicylate penetrates deep into tissue and fights inflammation
Analgesic effect
capsaicin quickly relieves pain and gives a sense of relief
Warming effect
ethyl nicotinate dilates blood vessels, thereby increasing blood flow, and a pleasant warmth is felt
Reliable and time-proved
Nicoflex has confidently established its position on the market for 40 years.
Nicoflex is unique
There are not any other creams whose operation is based on same three components.
We collaborate with doctors
The specialists are highly knowledgeable about the product. Nicoflex is advised by therapists and traumatologists worldwide.
The product is well distributed
Nicoflex is available all around Ukraine. 100% presence in all the pharmacies, where our representatives work.
Jeanne Vintonyak
Gardener, entrepreneur, 31
Psychologists have found that working in the garden perfectly helps to relieve stress. Such read my husband. And relying on this fact, he bought a few plants with an offer to turn back patio in the garden. At first I did not take the idea, but as it turned out, he was right. My main activity - is a small business with the sales. And the daily work with new buyers sometimes very exhausting. Therefore, the idea of extra work as a break from work, at first I didn't take it. But not to offend my love, I laid siege presented plants.